THE CROWELL BASKETBALL SYSTEM
June 21, 2018

|

Comments Off

on THE CROWELL BASKETBALL SYSTEM
THE CROWELL
BASKETBALL
SYSTEM
This logical, organized system of basketball is based on over 50 years of basketball experience. Coach Crowell has learned through competitive coaching experience from the best coaches in the history of basketball.
Some of the great coaches in basketball are Hank Iba, Oklahoma State, Press Maravich, LSU, Dean Smith, N. Carolina, Cotton Fitzsimmons, Kansas State, Phoenix Suns, Bill Fitz, Bowling Green, Boston Celtics, Tex Winter, LA Lakers.  You can't coach against these giants without learning vital and valuable coaching skills.  The best teacher is the LIFE EXPERIENCE COACH.  You learn or you perish.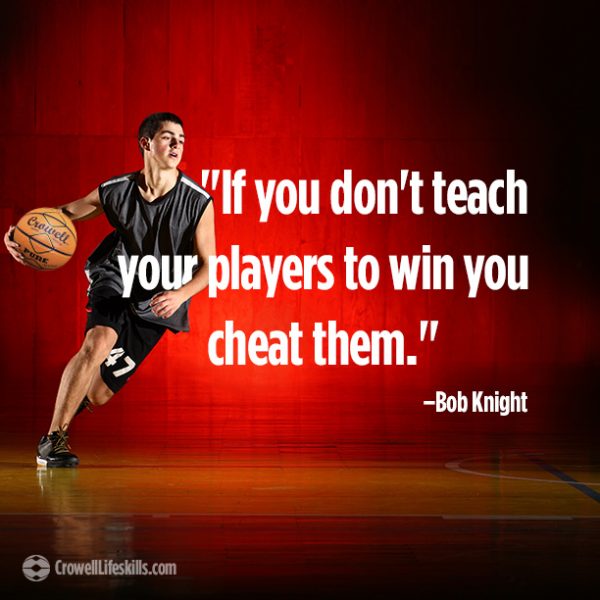 The crucial FUNdamental in the Crowell System is to teach/train/coach athletes to WIN.  Winning, foremost, begins in the subconscious mind.  Access to the subconscious mind is through the conscious mind.  Winning is not luck or circumstantial.  WIN is as logical as creation!  The giant ocean rises and falls at set times.  The sun always rises in the east and falls in the west.  Likewise winning is LEARNED BEHAVIOR.  The Crowell Basketball System is based on logic, organization, knowledge, and understanding.
BASKETBALL FUNDAMENTALS CAN AND SHOULD BE FUN TO TEACH AND LEARN!

  This is the genius of mastering basketball skills. If you love it, you can't get enough of it. Basketball is fun if you love it.
The FUNdamentals of basketball are most effectively learned if they are made FUN to practice.   This is the genius of the masterful coach. BASKETBALL begins and ends with mastering the FUNDAMENTALS.

Crowellball FUNdamental #1. 
TCOB – tak
e care of the basketball.
6 Skills to master: 
Double C – Confidence and Courage– absolute, total confidence the safest place for the basketball to be is in my hands!
S.P. – STANCE & PIVOTS – Elbows out to protect ball; move the ball in a triangle (above the head, right hip, left hip or lower never in belly area). Four pivots to move defender right or left at least 3 feet!
DRIBBLE  – no drill more effective than two basketballs.  The non-dominant hand must be as strong as dominant hand.  No excuses.
2 FOOT STOP – in traffic end the dribble with a 2 foot stop and get the ball overhead; except on one-legged unguarded lay-ups.  Power layups or after a great fake.
W.T. – WRAP & TUCK – attack moves to hoop cover the basketball ball with shooting arm over the top of the ball and tuck the basketball on shooting side, never the inside of the body.
M.F.T. – MAKE FREE THROWS – high percentage free throw shooters don't get fouled as often; poor FTS's are targets to get fouled. In critical game situations, a missed FT is a TO (turn over).

Crowellball

FUNdamental #2.




PLAY SMART –

 good shot selection & court wisdom.
Think PLAY –  like a wise coach – know and understand the game.  Be a student of the game.
Master shooting skills.
• One foot right and left-hand lay-ups plus short range hook shot off the glass.
• Power lay-up with 1 and 2 above the head fakes.  Get fouled, make FT.
• 50% jump shot shooter up to 17″ from the hoop.  10 attempts = 10 points.
• 35% success 3 point shots.  10 attempts = 10.5 points.
Get Open to Receive a Pass – you must be able to free yourself from the opponent.
Understand Triangles – ball, player right, left and flasher in the middle.
Defense Principles – know them by heart.

Crowellball

FUNdamental #3.




PLAY HARD – 

If there must be blood on the court after the game, make sure it is not yours.
Be the TIGER, not the lamb – inside the lines mental toughness rules.  No whining, no blaming others, including refs. Come to play hard.
Be QUICK NEVER HURRY –  play with poise always under control.
Be FIRST – to practice, to encourage others, to be in front of the line, to compete to win every event be it sprints or shooting comps.
REBOUND – go get the ball off the glass -be a warrior when the ball is in the air.  Hands up, block out, swim over or under.  Get the ball!
Be LAST – to leave practice, to check locker room for trash, to expect a compliment, to quit, to get tired.  Never quit!
BCP – Best  Condition Possible –  water, drink half your body weight daily, food as much green (not M & M's) and protein possible-cut bread and sugar.

Crowellball

FUNdamental #4.

FINISH the Play

 with a Basket and life with excellence.
Embrace a NEVER QUIT MINDSET.  It is easy to start; hard to finish. Be a finisher!
LIVE a Life of GRATITUDE – see the positives, not the negatives.
S.E.  SPEAK ENCOURAGEMENT.  Encouragement is oxygen. Oxygen kills cancer, laziness, bad attitude.  Give oxygen to everyone you meet.
LOVE HARD WORK – Working hard is not noble; loving to work hard is noble.
THE THREE VITAL KEYS TO MAKING THE CROWELL BASKETBALL SYSTEM WORK
Know the Crowell Basketball System -Knowledge is powerful!  If you don't know it, you can't understand it.

Understanding the Four FUNdamentals is critical.  If you don't understand it you can't do it.

ACTION-if you don't do it you don't know and understand it.  
Therefore, every skill drill during practice must be designed to teach/train/coach athletes to master the Four Crowell Basketball FUNdamentals!

REALITY CHECK!
"If a player cannot do the skill successfully there are three reasons. Skill was not trained, the athlete does not care enough to learn, or skill is too difficult. – Fred Crowell
"Fact, repetition is the mother of learning; repetition is the single most important element of learning the Crowell Basketball System.  – Fred Crowell
THE CROWELL BASKETBALL SYSTEM IS THE PROPERTY OF FRED CROWELL AND CANNOT BE REPRODUCED AND USED WITHOUT CONSENT OF THE FOUNDER.  TM