LESSONS LEARNED FROM ITALY
July 17, 2017

|

Comments Off

on LESSONS LEARNED FROM ITALY

For 13 days 37 basketball players and adults toured fantastic Italy.
These are a few of the lessons we learned and hopefully live out the rest of our lives.
CONTENTMENT IS AN ATTITUDE!
GOD our Abba Father gave us the power to take control of our attitude and our effort.
WINNING IS AN ATTITUDE!
Preparation is the key to a winning mindset.
Teaching a child to WIN is the most important skill in the game of LIFEBALL and in hoops.
Elegant question. Do you know how to WIN?
IMPORTANT SKILLS TO REMEMBER:
Rule of 72.

 

(If you go more than 72 hours without doing a skill you begin to diminish your ability to do the skill).
Magic number is 6. Repetition is the critical "learn factor."


Meeting a new person and want to remember their name? Say their name 6 times to yourself. Read a book 6 times. Tell someone you care 6 times.

Want to, trumps how to, every time. Once you quit it is very difficult to start again. The only way you will fail to reach your destiny is if you don't want it bad enough. You must bleed to reach your destiny.

Ask for more. Text or email and I will give you #4. It is a dandy.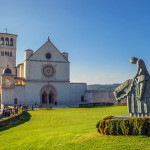 Life's most important win is knowing the Son; miss him and you miss the essence of your existence.
He, Jesus, is the visible expression of the invisible God. All things were created in him by him and for him.
The heavens declare the glory of God… All of Italy shouted the glory of God whether it was in Rome at the Sistine Chapel or at Assisi with Saint Francis or on the magnificent Amalfi coast. We saw the creator of the universe and the Miracle Builder of our souls.