A HEALTHY COACH HAS CHARACTER
February 21, 2020

|

Comments Off

on A HEALTHY COACH HAS CHARACTER
This guest Words of Hope is written by Janice Foland.
OUR KIDS NEED HEALTHY COACHES WITH CHARACTER.
How do we select healthy coaches for our kids?
Introducing Fred Crowell with a PTR (Proven Track Record) who points us to the "HOW TO."
What does Fred say?
Expose a child to kindness and he will grow to be kind! Expose a child to anger & he will grow to be angry!
Yes! Character counts when it comes to who we choose to teach and train up our kids!!!
Fred Crowell knows the impact we have on young minds – positive or negative. Therefore, his camps are designed as a safe harbor for kids.
Fred has summer camps across the nation and overseas, with a 50-year track record, show character.
Fred hires camp coaches who plant love and kindness seeds in the young athletes' hearts.
Fred has explained his foundation for the life principles he implements at his camps in Meet My Head Coach and his soon to be released book Words of Hope.
The Parenting Creed
A child who is respected will become respectful
A child who is loved will become loving
A child who is treated with fairness will become just
A child who is listened to will become a great listener
A child who is given choices will become responsible
A child who is treated with kindness will become a great friend
A child who is nourished in all these ways will become a leader!
Thank you Fred Crowell for your input" into the lives of so many young men and women across the nation and overseas! NBC Camps was birthed out of a deep love for the GAME and for the "Head Coach" you serve and write about in "Words of HOPE"…
Thank you for pointing the way for schools and camps to build a good foundation for its youth through your living example written so clearly in "Meet My Head Coach."
Thank you for your manual to train up coaches and students called "STOP BEING A BULLY…START BEING A FRIEND"…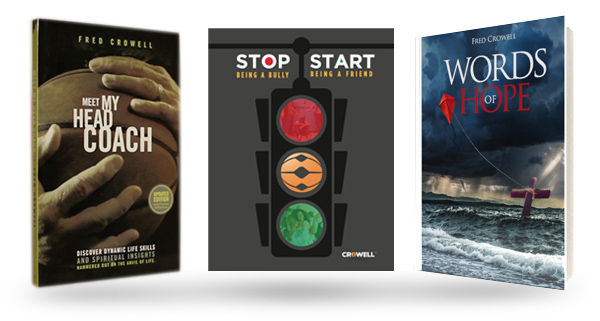 Thank you, Fred, for being my friend over the many years and for supporting the kids on the streets who need a camp experience to help them find their way to a "PURPOSE FILLED" LIFE!