THE DETACHMENT PRINCIPLE
March 5, 2018

|

Comments Off

on THE DETACHMENT PRINCIPLE
The detachment principle is a life skill of letting go with ease and grace yet maintaining zest and a drive to live life fully.
All of life has a beginning and an ending.

There is first the start; then the finish.

The hello comes before the goodbye.

The delivery room precedes the grave. Birth before death.

The hard work before the excellent results.

The accumulation before the diminishing.

Today's treasure is tomorrow's junk.

Good health comes before bad health.
Time marches on and stops for no one. The greatest invention ever would be the machine that allows a man to buy back used time. Now that would be a trick.
Imagine buying back 36 years. No longer am I 76 fighting cancer. Now I have a 40-year-old body with a 76-year-old mind. Hey, maybe I could be a genius. No chance; only wishful think.
Where is the hope in the principle of detachment?
Detachment is the path to freedom. Detachment is a crucible core of Christ's message. Let go, and let God.
Detachment brings peace and reduces anxiety.

Detachment eliminates greed and jealousy.

Detachment stifles self-centered thinking.

Detachment is knowing enough is enough.
What are you hanging onto that is getting in the way of your freedom, joy, peace, love, and forgiveness?
What is stopping you from knowing whatever you have is more than enough?
Are you exhausted running the race of, "just a little bit more?"  There is never enough and there never will be enough, until we surrender our will to knowing and understanding enough is enough.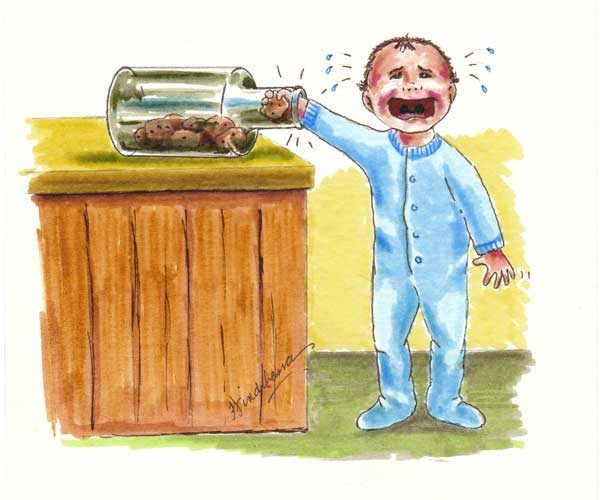 The young child reached her tiny hand into a narrow-necked M&M jar. Fist full she could not get her hand out of the jar. She sobbed with clenched fists. Not until she let go of the candy was she able to get her fist out of the jar.
Paul in his letter to his friends, the Colossians, exhorted them to use whatever they held in their hands for God's Glory.
For moms and dads that might mean letting a child go off to a college far from home.
For the angry, the bitter, it means letting it go.
For the anyone clinging, grasping, begging to hold onto that which you cannot control, it means letting go. Open your fist like the child with the M&M's.
I have been crucified with Christ, and it is no longer I who live, but Christ lives in me. So the life I now live in the body, I live because of the faithfulness of the Son of God, who loved me and gave himself for me.
– Galatians 2:20