TEN THOUSAND BOOKS
September 25, 2020

|

Comments Off

on TEN THOUSAND BOOKS
The time has come! Ten thousand WORDS OF HOPE books are now being published: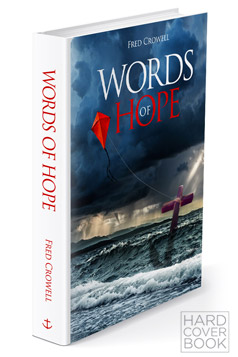 Full-color, hard-back cover
416 pages of wisdom
366 Hope messages
The daily messages are to inform, inspire, and entertain. For the author Fred Crowell, it was a five-year labor of faith, HOPE, and love, even while battling cancer. If the Words of Hope book were a living person, it would say: "May I come home with you? I promise I will be more than a beautiful book on your favorite desk or table. I promise to bring you hope each time you read one of my daily inspirations. I am clear, concise, convincing, and compelling."
As I look back over 78 years here on earth, I am grateful for all those who helped me become the person I am with a story and message to tell. May it be encouraging to you. If this legacy book elevates your HOPE, I will be most grateful for this literary platform.
Above all, I am so thankful to God, my Source of all life, breath, noble wisdom, and understanding. I feel I have received even more blessings than should be granted. I know my Lord, in love, is the blessed Giver of all good gifts. I write because I must!
This Words of Hope finished book can be ordered at:

AMAZON