BRAND SPANKING NEW
August 8, 2017

|

Comments Off

on BRAND SPANKING NEW
Never used before, smells new, clean as a whistle, fresh, one of a kind, made just for you… no wonder people like brand spanking new.
Josh Burton was looking for a special basketball camp for his daughter Brandee.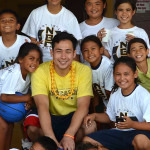 He heard NBC had a basketball camp in Maui.
His beloved island of Kauai did not have a quality basketball camp. After a week of basketball camp Josh and Brandee had much to talk about. 
Brandee played a ton of basketball and father Josh delighted in watching the entire camp experience.
A week after the camp Josh was driving to work. Josh had a revelation; he needed to make serious changes in his life.
Josh Burton asked Jesus Christ to be his Savior and Lord. Being a chain smoker and blackout drinker the entire extended family was in shock and joy when husband and father quit both cigs and booze cold turkey.

The miracle of the Christ life is that he doesn't repair or renovate He crucifies our old nature and gives us His nature and we become clean, fresh, and brand spanking new.
The Josh Burton story doesn't end here. Burton called NBC headquarters with one question, "How do I bring NBC basketball camps to my beloved Kauai?"
For the past five years Josh and his fabulous family have inspired hundreds of youth to discover how to win.  The "W" of Kauai is Josh's non-profit. Each child in Kauai can attend an NBC Basketball or Volleyball Camp for just $50.
Fred Crowell on Josh Burton, "I love Josh because he is one of the most generous and caring people I have ever known. He truly lives a brand spanking new life through Jesus Christ our Savior and Lord."
Josh Burton lives the two qualities that are necessary to be a true Christlike leader. He lives a proven track record and is worthy of being imitated. PTR & WOBI
You can become a new, in fact a brand spanking new person through Jesus Christ!