NBC BASKETBALL CAMPS COMING TO STEBBINS, ALASKA
January 23, 2019

|

Comments Off

on NBC BASKETBALL CAMPS COMING TO STEBBINS, ALASKA

FEATURING COACH JOYCE WALKER30+ YEARS BASKETBALL EXPERIENCE, 3-TIME KODIAK ALL-AMERICAN, HALL OF FAME HONORS IN THE FOLLOWING: NATIONAL HIGH SCHOOL BASKETBALL, WASHINGTON BASKETBALL, LSU, AND SEATTLE PUBLIC SCHOOLS SPORTS. ALL-TIME LEADING SCORER IN LSU WOMEN'S BASKETBALL & WASHINGTON HIGH SCHOOL BASKETBALL, FORMER HARLEM GLOBETROTTER
For more than 35 years, Coach Crowell his team have been traveling to
villages in Alaska with a message of hope and winning the challenges of
life. In 1998, Coach Crowell spent several days in St. Michael after a
village tragedy. Crowell and Coach Joyce Walker come again to be a
positive force in the Stebbins community. The St. Michael community is
also welcome to be part of the programs presented.
Thank You Coach Marlene!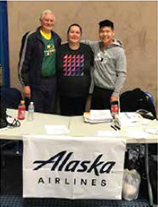 For two years, Coach Marlene has worked hard to find funding to bring
NBC Basketball and Crowell Life Skills Training to Stebbins, Alaska. Many
educational events on basketball excellence, suicide prevention, parents
helping children excel, and students winning life will be presented.
Contact Coach Marlene for more information – Marlene Katcheak: jrenee_cnoel@yahoo.com